Automatic Door Closers
Complete Locksmith Solutions for your Business!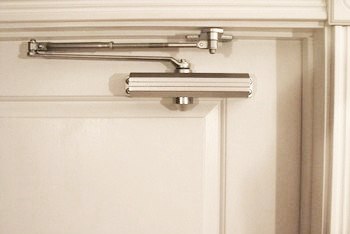 Brownsville Locksmith Pros offers a full range of locksmith services sought by businesses, including the installation, service and repair of automatic door closers. These devices offer additional security to many organizations, government agencies and commercial enterprises. We install and repair locks and automatic door closers in Brownsville, TX and surrounding areas. Our complete locksmith service supplies highly skilled mobile locksmiths to resolve your lock-related concerns professionally and efficiently. With 5+ years experience, our company endeavors to answer customer requests for service with an extraordinary 30 min response time. We take great pride in our role as an industry leader in answering service calls rapidly. When you contact us for assistance, our licensed, bonded and insured expert technicians will make your call a priority. Our 24/7 locksmith service maintains a policy of offering customers up front pricing, in every case. You will know the complete amount of our bill before any of our locksmiths undertakes an assignment for you. Customers greatly value this courtesy, and they also appreciate our fast and friendly, dependable service. Contact us whenever you face a problem involving locks or door closers.
Our Automatic Door Closer: Installation, Service and Repair
Today automatic door closers make certain in many situations that entrances do not remain open after someone enters the premises. These devices also assist customers by sparing them from having to push and hold open heavy doors; shoppers in particular often appreciate this convenience, especially when they leave carrying purchases or pushing shopping carts. We install and repair automatic door closers in a wide variety of settings, including: Supermarkets; Retail Malls; Fast Food Outlets; Airports; Government Agencies; Public Schools; Office Complexes; Car Dealerships; And Other Locations. If you conduct business in one of these settings any you believe an automatic closing device would make your entrance doors more user-friendly, we'd be happy to examine your doors and help implement a new automatic door closure system for you.  Contact us to address repair issues involving automatic doors, also. Our highly trained commercial locksmiths can troubleshoot problems impacting doors that should close automatically. We'll correct the malfunction and restore your business'doors to excellent, functional condition. Commercial enterprises in Brownsville, TX and surrounding areas trust our complete locksmith service to keep their automatic doors functioning in great condition. We'll handle any type of problem you encounter with these doors in a professional, expert manner. Simply contact us and request a service visit from one of our highly knowledgeable locksmiths. We can restore your automatic door to excellent, functional condition.
Call Us When You Encounter an Automatic Door Closer Problem
Brownsville Locksmith Pros offers a high quality complete locksmith service in Brownsville, TX and surrounding communities. Businesses call upon our team to perform the installation of automatic door closers. We'll also furnish routine service to help keep these important security devices operating smoothly. If you encounter a problem with your automatic door closer, call us for a fast, professional solution. We maintain a policy of answering initial requests for assistance with an exceptionally rapid 30 min response time. With 5+ years experience, our 24/7 locksmith service supplies licensed, bonded, and insured mobile locksmiths to address your concerns about lock-related issues at any hour of the day or night. We'll provide emergency commercial locksmiths around the clock. Today, many businesses seek locksmithing assistance after hours in order to open the next day with a fully secured, well-protected office or retail outlet. Our expert technicians will accommodate your company's schedule in order to help ensure that our work does not interrupt your business. You'll also appreciate our fast and friendly service and our policy of honest, up front pricing. Call us the next time you require a skilled commercial locksmith!
Click to Call From a Mobile Phone