Mortise Locks Brownsville TX
Complete Locksmith Solutions for your Business!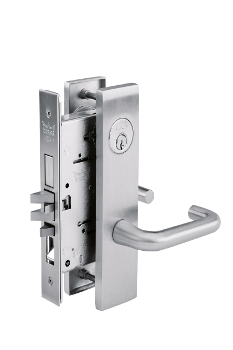 Mortise locks Brownsville are designed to keep you, your family, and your business secure. In a world where safety is elusive, a good lock and the professionals to install and repair it is the combination you need for real peace of mind. The danger outside is real. Let us help you keep it outside.
At Brownsville Locksmith Pros, we offer 24/7 locksmith services, so we are prepared to meet your needs day and night, with just one phone call. Our highly trained, expert technicians are ready and waiting to make sure you don't have to worry about your security.
Complete Locksmith Services for the Home
So why mortise locks? This type of lock is really the preferred choice for keeping you and your family free from harm. The design lets the lock fit inside the door itself with a shaped cutout pocket (or mortise), making it extremely difficult to pick or force open.
Because of the intricate nature of mortise locks, professional help is required to make sure your doors are secure.That's where we come in. Our fast and friendly install and repair services give you the freedom to live in your home without fear of the outside world. We are licensed bonded and insured, letting you have absolute confidence in our work. Here in Brownsville TX and the surrounding area, we are your neighbors! Our staff has 5+ years experience, and are ready to help you out with a 30 min response time. All technicians give up front pricing, which means no surprise fees, and no hidden add-ons.
Worried about style? Not a problem! We offer repair and replacement of mortise locks with nickel, chrome, brass, and other finishes, all in a variety of different styles, such as modern, rustic, contemporary, traditional, and more! You're guaranteed to find something that perfectly complements the style of your home.
Complete Locksmith Services for Business
Your business is your livelihood, and without the security of a good lock, we know you won't feel safe. Mortise locks are the ideal candidate for keeping your business free of trouble, with a shaped cutout pocket (mortise) that makes picking or forcing the door extremely hard.
Trust our fast and friendly technicians to give you the peace of mind you deserve. We are ready with a 24/7 locksmith service, and our up front pricing means no hassle, just a job done right. Our mobile locksmiths are ready to come to you with a 30 min response, right here in Brownsville TX and the surrounding area.
As with home installations, we offer many different styles, such as contemporary, rustic, traditional or modern, and with nickel, chrome, brass or other finishes, we're sure you'll be pleased to display this secure lock on your door.
We Care About Your Security
Whether for your home or your business, mortise locks are the right choice to give you the safety and security you deserve. And Brownsville Locksmith Pros are the experts you'll need to get the job done right. Each person has the right to personal security, and we are here to offer that freedom to you. We stick to our promises, and we promise to make your home or business free from the predators that lurk outside. Whether day or night, you need to have someone to rely on, someone to trust with the safety of your family and business. We propose to be that someone. Our honest and reliable staff are trained and experienced, and we care deeply about your safety.
Isn't it time to invest in security and peace of mind? Call Brownsville Locksmith Pros: we're here to help.
Click to Call From a Mobile Phone